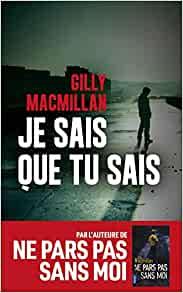 Je sais que tu sais by Gilly Macmillan
4 min
Je sais que tu sais by Gilly Macmillan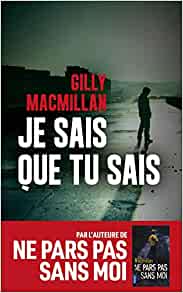 Prix or Price : 14,99€ en numérique (339 pages), 21,90€ en broché et 21,90€ en audio-book.
Éditeur : Les escales éditions (29 mai 2019)
Langue : Français
Traduit par : Séverine Quelet
Catégorie : Mystère, fiction, thriller, suspens
Note Booknode : Liste d'or
Note Amazon, Babelio, Goodreads & Netgalley : 4*
Note Livraddict : 16 / 20
A few words about the author :
Gilly Macmillan is the New York Times & Sunday Times bestselling author of TO TELL YOU THE TRUTH, THE NANNY, WHAT SHE KNEW (previously published as BURNT PAPER SKY in some territories), THE PERFECT GIRL, ODD CHILD OUT & I KNOW YOU KNOW.
Gilly is Edgar Award nominated and an ITW award finalist. Her books have been translated into over 20 languages.
She grew up in Swindon, Wiltshire and also lived in Northern California. She studied History of Art at Bristol University and the Courtauld Institute of Art in London.
Gilly lives in Bristol, UK with her family and writes full time. She's currently working on her seventh novel.
Quelques mots sur l'auteure :
Gilly Macmillan est l'auteur à succès du New York Times & Sunday Times de TO TELL YOU THE TRUTH, THE NANNY, WHAT SHE KNOW (précédemment publié sous le titre BURNT PAPER SKY dans certains territoires), THE PERFECT GIRL, ODD CHILD OUT & I KNOW YOU KNOW.
Gilly est nominée pour le prix Edgar et finaliste du prix ITW. Ses livres ont été traduits dans plus de 20 langues.
Elle a grandi à Swindon, dans le Wiltshire, et a également vécu en Californie du Nord. Elle a étudié l'histoire de l'art à l'université de Bristol et au Courtauld Institute of Art de Londres.
Gilly vit à Bristol, au Royaume-Uni, avec sa famille et écrit à plein temps. Elle travaille actuellement à son septième roman.
Summary :
In Bristol, two murder cases are mysteriously linked more than twenty apart. An electrifying thriller.
Bristol, 19th August 1996. The bodies of two murdered children are found in a vacant lot in the early hours of the morning. When a new body is discovered at the same spot twenty years later, Inspector Fletcher is forced to go back to his old files. Could the two cases be related? Yet the investigation was solved by Fletcher himself. Unless a mistake was made?
For Cody Swift, a young man still haunted by the deaths of his two childhood best friends, there are still obvious grey areas. He then launches a podcast in which he broadcasts the progress of his own investigation, even if it means awakening some of the buried traumas and wounds that are still alive...
What really happened in 1996 during that stifling night? Was the man who was sent behind bars at the time innocent? And if so, where is the murderer today?
Résumé :
À Bristol, deux affaires de meurtres se retrouvent mystérieusement liées à plus de vingt d'écart. Un thriller électrisant.

Bristol, 19 août 1996. Les corps de deux enfants assassinés sont retrouvés au petit matin dans un terrain vague. Lorsqu'un nouveau cadavre est découvert sur le même lieu vingt ans plus tard, l'inspecteur Fletcher se voit obligé de replonger dans ses anciens dossiers. Les deux affaires pourraient-elles être liées ? L'enquête a pourtant été résolue par Fletcher lui-même. À moins qu'une erreur n'ait été commise ?

Pour Cody Swift, jeune homme encore hanté par la mort de ses deux meilleurs amis d'enfance, d'évidentes zones d'ombre persistent. Il lance alors un podcast dans lequel il diffuse les avancées de sa propre enquête, quitte à réveiller chez certains des traumatismes enfouis et des blessures encore vives...

Que s'est-il réellement passé en 1996 lors de cette nuit étouffante ? L'homme qui a été envoyé derrière les barreaux à l'époque était-il innocent ? Et si oui, où se trouve le meurtrier aujourd'hui ?
Mon avis :
Je tiens à remercier les éditions Les escales noires et le site Netgalley de m'avoir permis de lire ce livre.
L'histoire se déroule à Bristol où deux meurtres qui à vingt d'ans d'écart semble liés. En 1996 deux corps de deux enfants sont retrouvés dans un terrain vague et vingt ans plus tard un nouveau cadavre est retrouvé sur le même lieu. L'inspecteur Fletcher se replonge dans les anciens dossiers. Il pense que l'affaire avait été résolue, il pourrait y avoir une erreur selon lui.
Quant à Cody Swift il ne crois pas à la résolution de l'affaire d'il y à vingt ans, il se lance dans la diffusion de podcast où il raconte ses avancées dans l'enquête.
Que c'est il réellement passé vingt ans auparavant? Une erreur d'enquête? Une mauvaise personne derrière les barreaux?
Un livre lu d'une traite tellement j'ai accroché à l'histoire si émouvante à certains passages, captivante, remplie de suspens et de rebondissements avec des personnages attachants. Ce livre m'a tenu en haleine du début à la fin.
My mind :
I would like to thank Les Escales noires and the Netgalley website for allowing me to read this book.
The story takes place in Bristol where two murders twenty years apart seem to be linked. In 1996 two bodies of two children are found in a vacant lot and twenty years later a new body is found in the same place. Detective Fletcher goes back to the old case files. He thinks the case had been solved, he thinks there might have been a mistake.
As for Cody Swift, he doesn't believe that the case of twenty years ago has been solved, so he starts broadcasting a podcast in which he tells the story of his progress in the investigation.
What really happened twenty years ago? An investigative error? A bad person behind bars?
A book read in one go, so much so that I hooked on to the story, so moving at certain passages, captivating, full of suspense and twists and turns with endearing characters. This book kept me on the edge of my seat from beginning to end.