E-challengers by Stephane Soutoul
4 min
E-challengers by Stephane Soutoul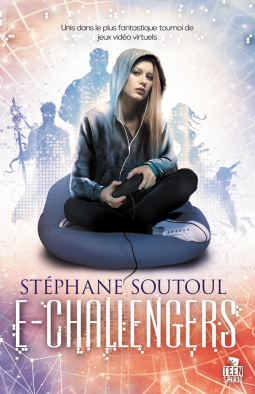 Prix or Price : 5,99€ en numérique (429 pages) et 20€ en broché

Éditeur : Mxm Bookmark (15 juillet 2019)

Collection : MXM.YOUNG ADULT

Langue : Français

Note Booknode : Liste d'or

Note Amazon, Babelio, Goodreads & Netgalley : 4*

Note Livraddict : 16 / 20

Quelques mots sur l'auteur :

Né en 1977, Stéphane Soutoul se passionne très tôt pour les récits où s'entremêlent l'interdit, le frisson et l'aventure.
De cette addiction pour la littérature fantastique, émerge un style partagé entre lumière et ténèbres. Son écriture cristallise sa prédilection pour les univers imaginaires dans lesquels tout peut arriver.
Il est auteur notamment d'une série vampirique en cours de publications aux éditions du petit caveau (Le Cycle des âmes déchues) ainsi que d'une future série bit-lit (Anges d'apocalypse) chez Rebelle éditions. Plusieurs de ses textes figurent au sommaire de diverses publications, recueils et anthologies.

A few words about the author :

Born in 1977, Stéphane Soutoul developed a passion very early on for stories where the forbidden, the thrill and the adventure are intertwined.
From this addiction to fantasy literature emerges a style divided between light and darkness. His writing crystallizes his predilection for imaginary worlds in which anything can happen.
He is notably the author of a vampiric series currently being published by Le petit caveau (Le Cycle des âmes déchues) as well as a future bit-lit series (Anges d'apocalypse) by Rebelle éditions. Several of his texts appear in various publications, collections and anthologies.

Résumé :

Unis dans le plus fantastique tournoi de jeux vidéo virtuels.

An 2027. Moi c'est Jessalyne, « Lyne » pour les intimes. Dans les tournois de jeux vidéo, ma niaque et mon sens aigu de la stratégie me propulsent en bonne place des classements. Quand je lâche ma manette, je redeviens une nana ordinaire de dix-sept ans qui gagne sa vie comme hôtesse de caisse.

Mon existence prend un tournant démentiel le jour où un mécène me propose d'intégrer sa cyber-écurie. Son objectif est de remporter la prestigieuse compétition virtuelle « Terre de défis » qui réunit les plus grands champions d'e-sport.

Réticente, j'accepte malgré tout son offre pour arracher mon petit frère des griffes d'une organisation tentaculaire.

Le sort en est jeté. Grâce à une fabuleuse technologie, je vais découvrir l'amitié et le frisson du danger aux côtés de mes coéquipiers… Mais puis-je réellement accorder ma confiance à Andreï, un garçon aussi mystérieux qu'attirant ?

Summary :

United in the most fantastic tournament of virtual video games.

The year 2027. I'm Jessalyne, "Lyne" to my friends. In the video game tournaments, my naivety and my sharp sense of strategy propel me to the top of the rankings. When I let go of my controller, I go back to being an ordinary seventeen-year-old girl who makes her living as a cashier's hostess.
My life takes a crazy turn the day a patron of the arts offers me to join his cyber-security. His goal is to win the prestigious virtual competition "Land of Challenges" which brings together the greatest champions of e-sport.
Reluctant, I nevertheless accept his offer to pull my little brother out of the clutches of a sprawling organization.
The die is cast. Thanks to a fabulous technology, I will discover friendship and the thrill of danger alongside my teammates... But can I really trust Andreï, a boy as mysterious as he is attractive?

Mon avis :

Je tiens à remercier les éditions MxM Bookmark et le site Netgalley de m'avoir permis de lire ce livre.

J'ai de suite été attiré par la jolie couverture de ce livre où l'on y voit l'héroïne principale portant un sweet à capuche tenant une manette de jeux vidéos dans la main et qui est assise sur un coussin.

L'histoire se déroule en 2027 où Jessalyn "Lyne" pour les intimes fait des tournois de jeux vidéos. Elle est plutôt en bonne place dans les classements. Lorsqu'elle ne joue pas c'est une jeune fille banale de dix-sept ans qui travaille comme hôtesse de caisse. Jusqu'au jour où on lui propose d'intégrer une cyber-écurie pour tenter de gagner la prestigieuse compétition virtuelle "Terre de défis". Un peu sur ses gardes au début elle accepte malgré tout pour sauver son frère des griffes d'une société tentaculaire. Grace a cette technologie de jeux vidéos elle va découvrir l'amitié, les sensations de danger avec ses coéquipiers. Pourra t'elle faire confiance à un garçon qui l'attire?

J'ai accroché de suite à l'histoire si addictive, captivante, remplie de suspens et de rebondissements avec des personnages attachants. J'adore la plume de l'auteur si addictive.

My mind :

I would like to thank MxM Bookmark and the Netgalley website for allowing me to read this book.

I was immediately attracted by the pretty cover of this book where the main heroine is wearing a hooded sweatshirt holding a video game controller in her hand and sitting on a cushion.
The story takes place in 2027 when Jessalyn "Lyne" for the intimate ones makes video game tournaments. She is quite high up in the rankings. When she's not playing she's an ordinary seventeen year old girl who works as a cashier. Until the day when she is offered to join a cyber-security to try to win the prestigious virtual competition "Land of Challenges". A little on her guard at first, she accepts in spite of everything to save her brother from the clutches of a sprawling society. Thanks to this video game technology she will discover friendship and feelings of danger with her teammates. Will she be able to trust a boy she is attracted to?
I immediately got hooked on the story, so addictive, captivating, full of suspense and twists and turns with endearing characters. I love the writer's pen so addictive.